YOUTH PEACE PROJECT RESUMES FOLLOWING THE DEATH OF 20 CHILDREN AT SANDY HOOK ELEMENTARY SCHOOL IN NEWTOWN, CT ON DECEMBER 14, 2012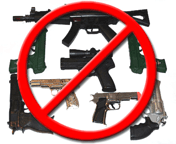 No Toy Guns!
"NO TOY GUNS" MERIT AWARDS OFFERED TO CHILDREN AND FAMILIES WHO PLEDGE TO NOT BUY OR PLAY WITH TOY GUNS
"If we are to create peace in our world, we must begin with our children."
—Mahatma Ghandi
NEWS & UPDATES
Los Angeles Times Letters: Toy Guns Shouldn't Be Toys
In print Thursday, November 7, 2013
New York Times: Not Always Fun and Games
In print Sunday, February 10, 2013
Rising child star Elias Washington honored with
"No Toy Guns" Merit Award
Elias at the March on Washington for Gun Control
January 26, 2013
News Conference Photo Gallery and Videos
January 11, 2013
Santa Monica Patch: Anti-Toy Gun Activists Reload Their Cause in Santa Monica
In the spirit of Mahatma Ghandi's message, and following the violent gun killing of 26 people, including 20 children ages 6 and 7, at the Sandy Hook Elementary School in Newtown, Connecticut, the Alliance for Survival peace group based in Santa Monica, California will once again resume their "No Toy Guns Merit Award Project", offering the awards to children and families who pledge to not buy or play with toy guns.
Click the image above to download a blank merit award.
DOWNLOAD A BLANK MERIT AWARD NOW
OR PLEDGE TO NOT BUY OR PLAY WITH TOY GUNS
AND RECEIVE A PERSONALIZED MERIT AWARD
Longtime peace activist and project coordinator Jerry Rubin says the free personalized 8-1/2" by 11" suitable for framing merit awards can be obtained by sending a letter or email stating "Why I will not buy toy guns for my children" and that parents can also help younger children compose their own letters, if the children are not yet old enough to compose it themselves, stating "Why I do not like to play with toy guns."
Pledge letters should be e-mailed to Jerry Rubin at: JerryPeaceActivistRubin@earthlink.net or mailed to: Alliance for Survival, Attn: Jerry Rubin, 2035 Fourth Street #103-C, Santa Monica, CA 90405. People are reminded to please include the spelling of the child's name that the merit award should be made out to, as well as the return mailing address. Please also include the child's age. If requesting a merit award by mail, people are asked to enclose $1 to cover return postage.
Any donations to help support this project are deeply appreciated. Please make contributions (not tax deductible) out to Alliance for Survival and send to the above mailing address.
For further information call: 310-399-1000 or e-mail JerryPeaceActivistRubin@earthlink.net
Please help us spread the word by including a link to this website on your website or in your posts. Thank you.
A good website to visit for comprehensive information regarding toys that promote creativity and
cooperative play is by Stevanne Aurbach, Ph.D., known as Dr. Toy, the author of "Smart Play/Smart Toys".
www.drtoy.com