YOUTH PEACE PROJECT RESUMES FOLLOWING THE DEATH OF 20 CHILDREN AT SANDY HOOK ELEMENTARY SCHOOL IN NEWTOWN, CONNECTICUT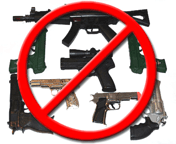 "If we are to create peace in our world, we must begin with our children."
—Mahatma Ghandi
Actress, Activist, and Mamas and Papas Founding Member Michelle Phillips to Join Anti- Toy Gun Activists, Mental Health Expert, Child Actor, and School Board Member at "No Toy Guns" News Conference and "No Toy Guns Merit Award" Public Giveaway January 11 on Santa Monica Third Street Promenade
What: "No Toy Guns" News Conference
When: Friday, January 11, 2013 - 12:00 Noon
Where: NoToyGuns.org outreach table at 1444 Third Street Promenade, Santa Monica,CA 90401
Why: To draw attention to the negative effects playing with toy guns is having on children. To remind people of the specific dangers of playing with replica toy firearms, and to call for strengthening already existing restrictions. To promote the "No Toy Guns Merit Award Project", which offers free personalized merit award certificates for children and families who pledge to not have or support toy guns.
Who: Conference speakers will include:
Michelle Phillips
Popular TV and film actress, longtime anti-toy gun activist, and a founding member of The Mamas and Papas popular 60's vocal group
Jerry Rubin
Longtime peace activist and coordinator of the "No Toy Guns Merit Award Project"
Dr. Carole Lieberman, M.D., M.P.H.
Internationally renowned "Media Psychiatrist"

Oscar De La Torre
Youth group leader; Board member, Santa Monica/ Malibu Board of Education
Just added: Elias Washington
Child actor; True Religion model
Any donations to help support this project are deeply appreciated. Please make contributions (not tax deductible) out to Alliance for Survival and send to the above mailing address.
For further information call: 310-399-1000 or e-mail JerryPeaceActivistRubin@earthlink.net
Please help us spread the word by including a link to this website on your website or in your posts. Thank you.